Two Factor Authentication (2FA) has been implemented in VITAL Online to maintain required security standards.
How set up an Authenticator application
Download an Authenticator app (or use one you already have).
Google Authenticator and Microsoft Authenticator are both popular version – any authenticator app can be used.
Hint: This can be downloaded on your computer, phone or other device – however we have found that it easier to use an Authenticator from a phone.
Login to VITAL Online and click on "SETUP 2FA" (as per image below)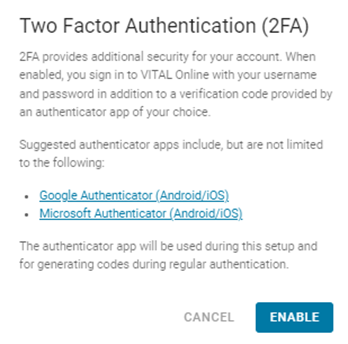 4. Enable to Authenticator app by scanning the QR code or using the TOTP code.
Also, record the Recovery Code..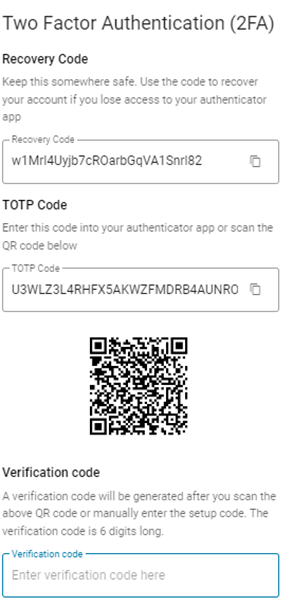 5. After the Authenticator app has been "linked" to VITAL Online, enter the Verification Code
6. Open the Authenticator app to get a new code and enter this code.
Login to VITAL Online using 2FA
Login at vital.allergenbureau.net. Enter email and password and select LOGIN.
Access the linked Authenticator app to get the One Time Password and enter into VITAL Online and select LOGIN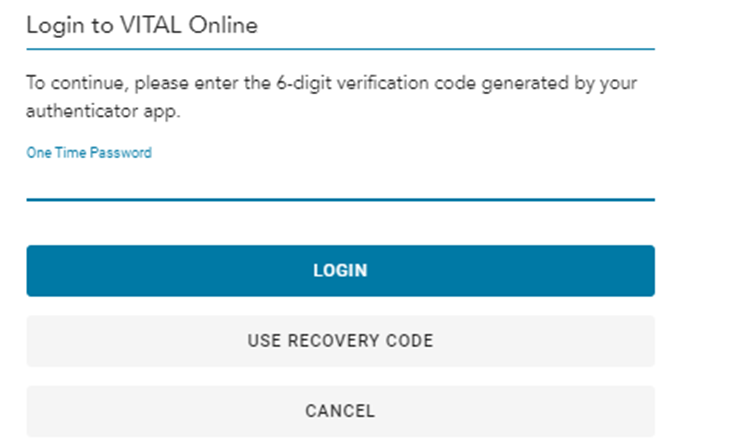 Trouble-shooting
A notice that that the user has "Exceeded login attempts before 2FA enabled." requires the Allergen Bureau to reset the login. Please contact the Allergen Bureau via VITAL Online "Contact Support" or directly at info@allergenbureau.net

If the one time password (OTP) generated by the authenticator is not working, check that the time is 'Set Automatically' on all devices (and not manually set).