Instructions below for
– setting up 2FA using an Authenticator App
– logging on to VITAL Online using 2FA
– troubleshooting (what to do if you lose access to an Authenticator app – e.g. a new phone) & what to do if your One Time Password is "not valid"
Two Factor Authentication (2FA) has been implemented in VITAL Online to maintain required security standards.
How set up an Authenticator application
Download an Authenticator app (or use one you already have).
Google Authenticator and Microsoft Authenticator are both popular version – any authenticator app can be used.
Hint: This can be downloaded on your computer, phone or other device – however many users have reported that it easier to use an Authenticator from a phone.
Login to VITAL Online and click on "SETUP 2FA" (as per image below)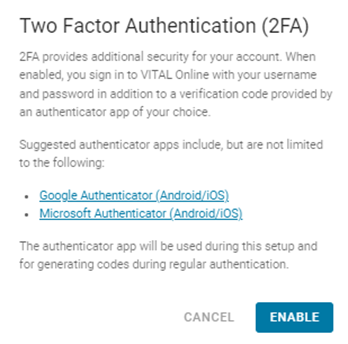 4. Open the Authenticator App. Click on the Add (+) button (or similar) to initiate the process to link the Authenticator app to VITAL Online. The Authenticator app should prompt the user to scan the QR code or using the TOTP code.
Note: If scanning the code, ensure that the scan is done using the Authenticator App – do not use the Camera App to scan the code.
Also, record the Recovery Code. The recovery code will give access temporarily to VITAL Online where the Authenticator app is not available. (see notes below if reset of Authenticator is required)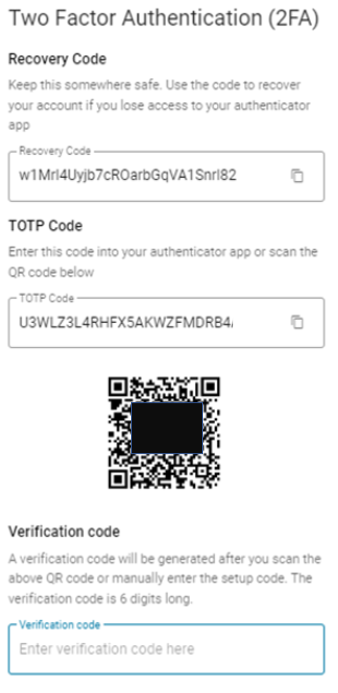 5. Follow the prompts in VITAL Online to enter the Verification Code.
Login to VITAL Online using 2FA
Login at vital.allergenbureau.net. Enter email and password and select LOGIN.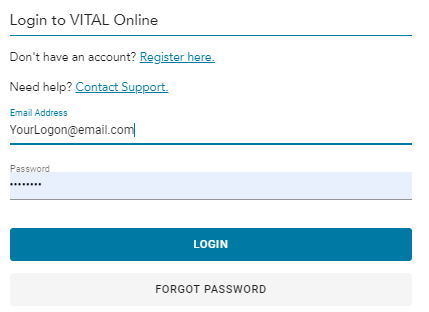 2. Access the linked Authenticator app to get the One Time Password and enter into VITAL Online and select LOGIN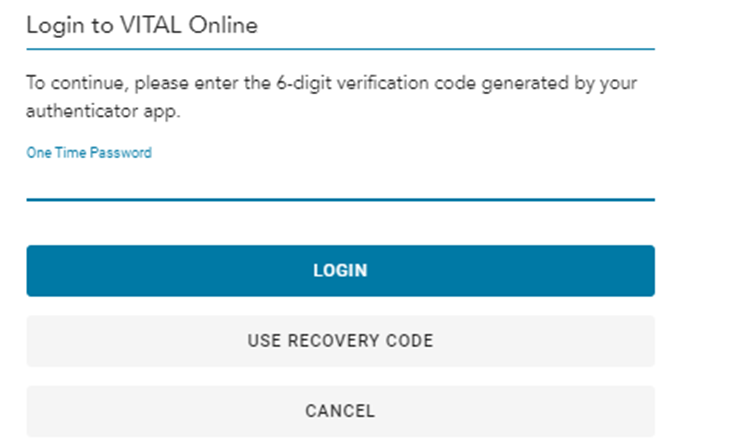 Trouble-shooting & Notes
A notice that that the user has "Exceeded login attempts before 2FA enabled." requires the Allergen Bureau to reset the login. Please contact the Allergen Bureau via VITAL Online "Contact Support" or directly at info@allergenbureau.net.

If the one time password (OTP) generated by the authenticator is "Not Valid", a likely issue is that the times on the device with the Authenticator and the device running VITAL Online are not synchronized. The solution is to have the time on both devices to be 'Set Automatically' (and not manually set).
If you lose access to the Authenticator app (e.g. new phone), contact the Allergen Bureau via VITAL Online "Contact Support" or directly at info@allergenbureau.net to reset your account to allow a new Authenticator app to be linked.
Each logon can only be linked to one Authenticator account.
It is not possible to disable 2FA for any user in VITAL Online. It is not possible to use SMS or phone as an authenticator method. The only 2FA method for use with VITAL Online is an Authenticator application.